MCT's "little red trucks": Ambassadors for city's culture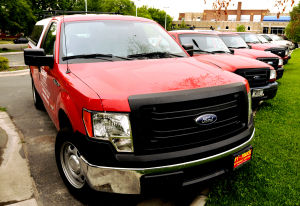 Plug the word Missoula, the lone city of its name, into Google News, and chances are you'll get a slew of results about Missoula Children's Theatre.
The fleet of "little red trucks" sets out each year to set up shop and stage a musical with 50 to 60 some children. What's more, they visit upward of a thousand cities in 50 states, a handful of Canadian provinces, and U.S. military bases abroad.
With that amount of windshield time, they're likely the first time many children and parents from Pembroke, North Carolina, to Solvang, California, have heard of the Garden City.
That fine-tuned machine of the theatrical arts had the humblest of beginnings – two impoverished actors looking to create jobs for themselves.
Jim Caron and Don Collins founded MCT in 1970, initially only staging children's plays here in Missoula.
Like many innovations, the MCT tour was born of need. Caron had a booking in Miles City in the middle of winter. Realizing the danger of driving a van full of kids across the state in a snowstorm, he asked the local principal if there were children at his school who wanted to be in a play.
The theater-starved community had enough interest, and Caron decamped for eastern Montana a week early to hold auditions and teach the children the material.
From that act of managerial improv, an old van grew into a fleet.
Back here in Missoula, the "little red trucks" are most visible w ...
Added: 3 years ago