Even beginning hikers can find plenty of trails to enjoy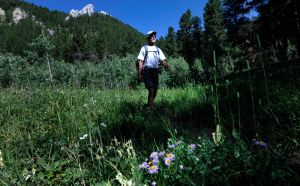 Hiking on the Palisades Trail, just minutes from downtown Red Lodge, is a sensory delight.
Shoes crunch on dried pine needles, releasing a pungent scent. A light breeze blows through the pine and aspen trees, mimicking the sound of a rushing river.
Thick green foliage softly brushes against a hiker's legs, and a variety of wildflowers in a rainbow palate of colors dots the landscape. At one point next to the trail, a half-dozen brown, black and white butterflies feast on the nectar of a cluster of yellow flowers.
Looking up, jagged gray limestone rocks jut out of the forest, contrasting against the blue sky.
"You can see these limestone crags, these palisades, all around here," said Grant Barnard, who's along for the hike.
Barnard points out a limestone kiln, one of several in the area that 60 years or more ago were used to process limestone.
"You see the palisades all the way from the Wyoming border — they kind of wrap around the edge of the mountains all the way up to Nye," said Barnard, president of the Beartooth Recreational Trails Association.
In addition to operating the Red Lodge Nordic Center in the winter, the association promotes and helps build, maintain and resurrect trails along the Beartooth Front.
Hiking, he said, encourages an active lifestyle, so it's good for the health, "and it's really enjoyable."
"People come to visit and I tell them 'I have a long list of places I
want to show y ...
Added: 3 years ago