Project builds partnership, fixes roads in Makoshika State Park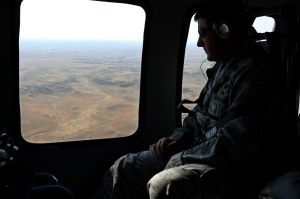 MAKOSHIKA STATE PARK, Glendive — The loud rumble of a bulldozer and an excavator pierced the quiet of the rocky crags and canyons inside Makoshika State Park on Saturday.
The goal was to move dirt that heavy rainfall sloughed off in 2011 and repair a portion of the switchback road that takes visitors to the park's badlands.
That's only one part of the work the Montana National Guard soldiers are doing as part of the road project. They are also roughing in a walking trail; hauling and placing riprap to combat erosion; and fixing rutted roads.
The road project began July 14 and is estimated to take 10 weeks.
But the work is more than just about roads, said Lt. Col. Tim Crowe, public affairs officer for the Montana National Guard. It's a unique partnership between the Montana Army National Guard, the Montana Air National Guard and Montana Fish, Wildlife and Parks.
Crowe brought members of the media from Billings using a Blackhawk helicopter so they could see the work in progress.
The story goes a few years back, Crowe said, when the Army National Guard's 260th, which is based in Miles City, was converted from a field artillery unit into a horizontal engineering company. Horizontal engineers, he said, work on roads and other close-to-the ground projects. 
Not long after the conversion, in June 2012, the 260th deployed for 10 months to Afghanistan on a mission primarily to clear improvised ex ...
Added: 3 years ago