Erna O'Donnell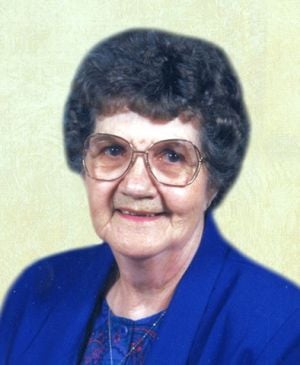 BAKER — Funeral Mass for Erna O'Donnell, 95, of Baker, will be 11 a.m. Tuesday, Feb. 10, 2015, at St. John's Catholic Church in Baker with Father Thomas Tobin celebrating. Burial will follow in the Old St. John's Cemetery.
Visitation for Erna will be from 5 to 8 p.m. Monday, Feb. 9, at Stevenson Funeral Home, Baker, with rosary and vigil service being held at 7 p.m.
Erna passed away Tuesday, Feb. 3, 2015, at Superior Care Villa in Baker.
Erna O'Donnell was born June 12, 1919, the daughter of Edward and Pauline (Pietzke) Koenig on the family homestead near Plevna/Baker. She attended Crow Country School and helped her mother in taking care of her nine brothers and sisters. Erna married Robert C. O'Donnell on Nov. 2, 1941, in Baker. To this union four children were born: Jim, Ray, Karen and Susan. Bob entered the United States Army during World War II and served at Wendover Field, Utah. In 1945 Bob and Erna returned to the Baker area and in 1956 settled on the north edge of town where they raised their four kids.
In 1991 they moved into a new home in Baker of which they were very proud of. Bob passed away in 1994 and Erna lived there for 12 more years. Erna worked at Mountain Bell Telephone Company for 25 years. She enjoyed sewing, quilting and embroidering pillow cases and dish towels. Many young couples received these as wedding gifts.
Bob and Erna traveled to Minnesota every year to see her two sisters, Sophie and Alvina. They also went on bus trips in the U.S. and to Canada for the Calgary Stampede. Erna lived 95 years seeing lots of changes, and her stories of family and local history were very interesting. She will be remembered for her compassionate heart and willingness to help friends and family.
Erna is survived by her children, Jim (Jane) O'Donnell of Miles City, Raymond (Mary Ann) O'Donnell of Glendive, Karen O'Donnell-Davis of Dayton and Susan (Doug) Cox of Baker; six grandchildren, Carrie, Kelly, Jamie, Allison, Robby and Danae, and 10 great-grandchildren.
She was preceded in death by her parents; her husband, Bob; granddaughter, Janelle O'Donnell; son-in-law, Lou Davis and all of her siblings.
Family thanks Michelle and staff at Superior Care for their kind care of mom.
In lieu of flowers, the family suggests memorials be sent to Superior Care Villa or the O'Fallon Museum in Baker.
Remembrances and condolences may be shared with the family at www.stevensonfuneralhome.com.
Added: 7 years ago