Harold Buxbaum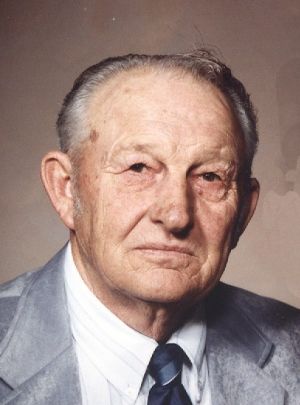 SIDNEY — Funeral services for Harold Buxbaum, 88, of Sidney, will be 10 a.m., Wednesday, Jan. 28, 2015, at Ebenezer Congregational Church in Sidney, with Pastor David Meehan officiating. Interment will be in Sidney Cemetery under the direction of Fulkerson Funeral Home of Sidney. Remembrances, condolences and pictures may be shared with the family at www.fulkersons.com.
Harold was born Jan. 9, 1927, in Bayard, Neb., to Henry Buxbaum and Molly (Meyer) Buxbaum. His family moved from Nebraska to Sidney in 1935. Harold was united in marriage to Lila Sheehan on Feb. 3, 1946, in Sidney. After the marriage, they lived in a little house by the old stockyard in Sidney. Then they moved to a house on her family farm, then to the Gable place before moving to Miles City. After several years in Miles City, they purchased a farm in Sidney and moved home. When Harold moved back, he farmed with his brother, Richard on the Otto Dige place, Dad on the Homeplace, and then rented the Julius Degn farm, the old Whitaker place, and the Lester Moore farm for many years. Harold and Lila moved in to the Lodge for several years before entering Roosevelt Medical Center in 2012, due to failing health.
Harold was a member of the Ebenezer Congregational Church in Sidney and the Moose Lodge. After retiring from farming, Harold enjoyed gardening and having coffee with his buddies. Harold and Lila enjoyed traveling with Herman and Martha. They made several trips to Mexico and Las Vegas.
Harold died on Friday, Jan. 23, 2015, at the Roosevelt Medical Center in Culbertson.
Harold is survived by his five sons, Dennis Buxbaum, Fred (Joy) Buxbaum, Greg Buxbaum, and Chuck Buxbaum, all of Sidney, and Keith (Lori) Buxbaum, of Billings; his sisters Mollie Asmus and Katie Wahlstrom; his brother Richard Buxbaum; 10 grandchildren; and seven and a half great-grandchildren.
He was preceded in death by his parents; his wife, Lila; infant son Douglas; son Jeff; grandsons Eric Buxbaum, Patrick Buxbaum and Darren Linde; and infant brother Henry.
Added: 7 years ago