Agnes Elizabeth McNaney 'Lil'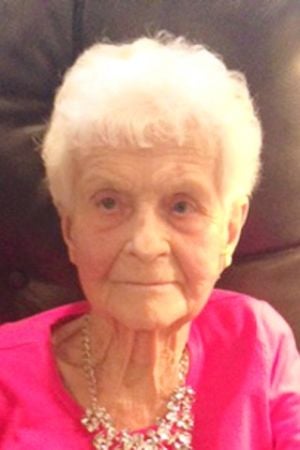 Agnes Elizabeth McNaney "Lil" was born on Oct. 28, 1923, in Scranton, N.D., to Charles Victora and Agnes Becker-Victora. She had one brother, Charles J.E. Victora. The family had a grocery store and hotel and later a big beautiful pavilion for dancing, meetings and roller skating. Her father died in 1932 in Dickinson, N.D. The pavilion burned down in 1939.
After the fire, she moved to Mildred. Her mother operated a cafe and hotel with the help of her brother.
Lil lived on a ranch with her mother and uncle in Mildred. She met the love of her life and got married to Art McNaney, a rancher, on Sept. 14, 1941. Their ranch was 30 miles from Baker.
Art and Lil had one daughter, Judy, born in Miles City, on May 14, 1949. She was the love of their lives. She graduated from high school in Plevna in 1972 and went to Denver to airline school. She met Gary Voss, married and moved to Japan while Gary was in the Air Force for two and a half years. When she came back, she had one son, Richard Lee. Judy died when she was 27.
Art and Lil lived on the McNaney Ranch from 1941 until they sold the ranch in 1978. Ranching was a wonderful life. They moved to Bozeman for 15 years, where they built a big beautiful home and sold it in 1993. They traveled a lot, making four trips to Europe, two to Hawaii, and met Art's relatives in Germany, in addition to other travels. They moved to Billings to be close to doctors, as Art was in poor health. He died on Aug. 23, 1998. She married George Shapard on May 14, 1999, and they had a good life together. They lived in Billings and have been married nearly 16 years. She got a big new family, which was great to have family again.
Lil leaves her husband George; one grandson, Rick, and his wife Angela; one daughter-in-law, Nancy; one son-in-law, Jeffrey Andrew; eight great-grandchildren; Jim McNaney, a brother-in-law; two sisters-in-law, Julie and Jeanette McNaney; and lots of cousins, nieces and nephews.
A funeral mass will be held at 10 a.m. Wednesday, Jan. 28, at St. Thomas Catholic Church in Billings, followed by interment in Sunset Memorial Gardens.
Michelotti-Sawyers Mortuary is in charge of arrangements. Condolences may be online at www.michelottisawyers.com.
Added: 7 years ago