Lorin Abarr Sr.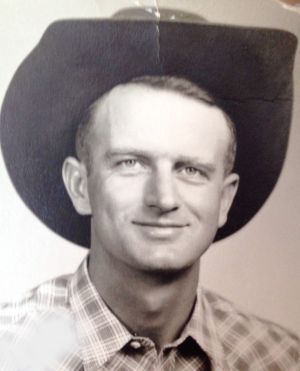 FALLON — A true cowboy, husband, father, sibling, grandfather and friend passed away at the age of 84 on Jan. 20, 2015.
Lorin Abarr Sr., of Fallon, was born on Dec. 10, 1930, in Billings, near his family's homestead in Dry Head. Beginning at the age of 14, Lorin worked on ranches and broke horses across the west. He was a true cowboy and horseman, considered by some of his time to be one of the best.
Lorin served in the U.S. Navy in an active war zone on an aircraft carrier during the Korean War. He was honorably discharged and returned to his beloved home state of Montana to live the life that he loved most — that of a cowboy. He met the love of his life, Pauline Abarr, at a St. Patrick's Day dance in 1969 in Jordan while working on the Binion Ranch. They had two children, Lorin Jr. and Lorena, who joined two children from Pauline's previous marriage, Echo (Kampf) Riley and Craig Riley.
Lorin was known to be a skilled horseman and cowboy, a hard worker and a loving family man. His love and kindness toward animals and stewardship of the land remained central aspects of his character throughout his life.
Lorin is survived by his wife, Pauline; his children, Echo, Craig, Lorin Jr. and Lorena; his brother Don; his sister Anna May; his grandchildren Felicia, Shalina, Tessa, Liam and Landon; and great-grandson Toki. He was preceded in death by five siblings, his mother and father, and one granddaughter.
Visitation will begin Sunday, Jan. 25, at Stevenson and Son's Funeral Home in Miles City with family receiving friends from 4 to 6 p.m. A funeral service will be held Monday, Jan. 26, at 11 a.m. at Stevenson and Sons Funeral Home in Miles City. Interment with full military honors will be at the Eastern Montana State Veteran's Cemetery. Should friends desire, condolences can be sent to the family by visiting stevensonandsons.com.
Added: 7 years ago