Margaret Elizabeth Beckers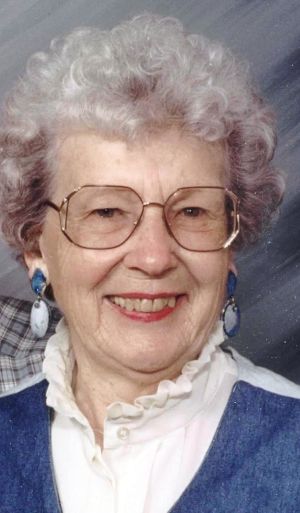 Margaret Elizabeth Beckers died Sunday, Jan. 18, 2015, at Hansen Cottage on the campus of St. John's Lutheran Ministries in Billings. Her children were fortunate to spend the last day of her life with her.
"Margie" was born on July 28, 1921, the daughter of John Gilligan and Barbara Noehl, of Brockton. A high school basketball player, she was also the valedictorian of her high school class. She studied at Northern Montana College in Havre and at Western Montana College in Dillon. She loved teaching school, especially first grade, and she taught elementary school at rural schoolhouses in eastern Montana and in Thompson Falls and Hot Springs. On Aug. 13, 1951, she married Hubert "Herb" Beckers, of Bigfork. After her youngest child started school, she was a teacher in Miles City, where the family lived at the time. After moving to Billings in 1966, Margaret finished her bachelor's degree in elementary education at Eastern Montana College. She then taught primary grades in School District 2 in Billings until she retired. Herb and Margie built their retirement home in Kalispell, where she could see her beloved mountains from every window. After her husband's death in 2008, she moved to Mission Ridge to be near her children and their families.
Margaret was an accomplished classical pianist and she had a lovely soprano voice. She was a voracious reader. Her yard in Kalispell was beautiful; she was a gardener and she loved to grow gladiolas. Her pieces of crewel embroidery are exquisite and are cherished by her children and grandchildren. She was an avid bridge player and devout Catholic. Her life was rich and full.
Margaret is survived by three children, Betty (Kevin) Strobel, of Greeley, Colo., Jim (Sue) Beckers, of Billings, and Mike (Roberta) Beckers, also of Billings. She had seven grandchildren, Brooks (Angelica) Johnson, of Billings, Ryan (Amanda) Strobel, of Beaverton, Ore., Katie (Nicanor Diaz) Strobel, of Brighton, Colo., Amanda (Clint) Sowden, of Billings, Allison Beckers, of Bozeman, and Gena Beckers and Matthew Beckers, of Billings. She had six great-grandchildren: Valerie, Andrew, Aundrea and Trystan Johnson, of Billings, Carter Sowden, of Billings, and Rain Strobel, of Beaverton, Ore.
Her husband, Herb Beckers, preceded her in death, as did her brothers (Alan, Lawrence, Paul and Floyd Gilligan) and sisters (Irma Sugget, and Helen and Dorothy Gilligan).
A funeral mass for Margaret will be celebrated at 10 a.m. Wednesday, Jan. 21, at St. Thomas Catholic Church in Billings. She will be buried next to her husband, Herb, and her sister, Helen, at the Conrad Memorial Cemetery in Kalispell. In lieu of flowers, the family suggests donations to the Alzheimer's Foundation, c/o Michelotti-Sawyers Mortuary, 1001 Alderson Ave., Billings, MT 59102. Condolences may be made online at www.michelottisawyers.com.
Added: 7 years ago