Gavin King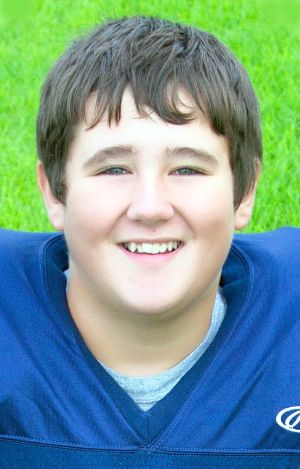 MILES CITY — Gavin King, age 14, of Miles City passed away on Sunday, Sept. 21, 2014, at the Holy Rosary Hospital in Miles City.
Gavin was born on March 10, 2000, in Miles City, the son of Kim Thompson and Timothy King. Gavin grew up and attended grade school in Miles City. He was quite the athlete playing everything from football, basketball, golf and baseball. He loved watching his New York Giants play on Sundays. Gavin was always ready to go on an adventure on a moment's notice. He enjoyed going on dirt bike trips with his friends from RMC as well as hunting trips with his father, stepfather, brother, and friends. Gavin always put others needs in front of his own. During Christmas, you would find him fretting over gifts to buy for his family, making sure that everyone had a gift to open. Gavin always had a smile on his face. He was so proud to have his first job working next to his dad at RMC. His loving and kind natured spirit will be missed by all. Gavin was a freshman in High School at the time he passed away.
Gavin is survived by his parents, Kim (Todd) Thompson of Glendive, and Timothy King of Miles City; brother, Tristan Alderman of Glendive; his grandparents, Mike and Sue King of Miles City, Bill (Kathy) Alderman of Miles City, and Darlene (Ed) Songer of Grass Range, Robin and Patty Thompson of Glendive; and numerous aunts, uncles, cousins and friends.
Visitation will be held on Thursday, Sept. 25, at Stevenson and Sons Funeral Home with family receiving friends from 4 to 6 p.m. Funeral services will be at 10 a.m. Friday, Sept. 26, at the Assembly of God Church in Miles City. Interment will follow in the family lot of the Custer County Cemetery.
Added: 8 years ago