Audubon petitions to halt bird killing at Miles City hatchery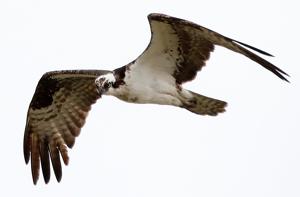 Osprey have been one of the species targeted by Montana Fish, Wildlife & Parks personnel at the Miles City Fish Hatchery in an attempt to protect largemouth bass brood stock.
Two osprey nestlings were banded in 2012 as part of an osprey and water quality study near Laurel.
An osprey returns to the nest with a fish on a platform at the Montana Audubon Conservation Education Center on in 2015. Ospreys are fish hawks, and the bass ponds at the Miles City Fish Hatchery were too enticing for them to ignore.
The Miles City Fish Hatchery produces bass for stocking in streams using large ponds where the fish naturally reproduce.
A pair of osprey go through a spring mating ritual along the Yellowstone River near Laurel in 2008.
Steve Regele
Added: 9 months ago