Thomas 'Tom' Arthur Hanel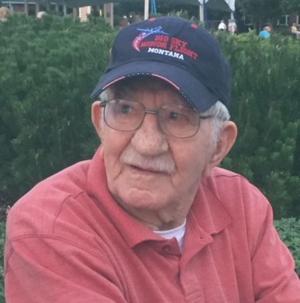 Thomas 'Tom' Arthur Hanel
Thomas 'Tom' Arthur Hanel, 91 of Billings, was born July 28, 1926 in Miles City, and passed peacefully on May 22, 2018. He was preceded in death by siblings; Frank, Mary Steen, Ray, Joe, Annie Farnes, Jimmy and Tony.
Tom graduated early from Custer County High School due to World War II being drafted into the US Navy. He proudly served active conflict on the USS LST-927 in the Asian Pacific Theatre honorably discharged as Seaman 1st Class, with Asiatic Pacific Area Medal and World War II Victory Medal. Tom returned home to care for his mother Anna where he met his lifelong love AnnaMae Miller. Tom and AnnaMae married on June 12, 1949 and enjoyed nearly 69 years of great times and happiness.
Tom and AnnaMae made their home in Miles City raising their children; Carol Hanel, Sally (Frank) Cifala, Tom (Robin) Hanel and Cori Hanel Munsell. He will be dearly missed by his 9 grandchildren; Brad, Laurel, Andrew, Tom (Adam), Brenda, Liz (Betsy), Chris, Jami and Jason and his 11 (+ 1 expected) great grandchildren.
Tom was employed at MDU retiring in 1986. He and AnnaMae were very active in the community enjoyed their many close friends and proud to call Miles City home until 2012 when they moved to Billings being closer to family and medical.
Tom was an avid outdoorsman, hunting was a priority successfully taking a Boone and Crockett record deer. Camping with family and his wife AnnaMae was his passion. They enjoyed 30+ years of annual camping trips to the Madison River joining AnnaMae's sister Bob and Dorothy Bovee then shifting to Georgetown Lake joined by many friends.
Tom was a very proud Veteran and spoke highly of his military service, his trip on the Honor Flight with son Tom was a cherished memory. He was seldom seen without his Honor Flight cap, faithfully attended military events and served as VFW Commander. He was quick to make friends enjoyed his special and close friend Don Lawrence of Miles City. Always willing to lend a hand to those in need, he had a keen sense for cars changing them often, his hands performed magic he was able to fix most anything.
Following a memorial service at 10 a.m. on Thursday May 31, at the First United Methodist Church on N Broadway in Billings, Tom will be interred with military honors at Yellowstone National Cemetery in Laurel MT. Condolences may be shared online at www.smithfuneralchapels.com.
Added: 3 years ago