Rudy LeBlanc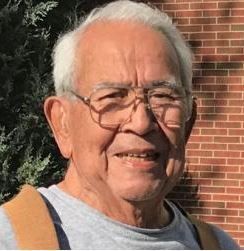 Rudy LeBlanc
Rudy LeBlanc entered the kingdom of heaven peacefully in his sleep on May 14th, at the Eagles Manor where he had resided for the last eight years. Rudy was a very personable, caring, simple man.
Rudy was born in Rocky Ford, Colorado on April 1st, 1931 to Gabe and Iola LeBlanc. He was the oldest of six siblings. On September 2nd, 1950, Rudy married Velma LaDean McDowell and to this union they had five children, Ruby Louise, Carl Eugene, Pamela Kay, Cherie Darlene and Terry Lee. Rudy's family made their home in LaJunta, Colorado where Rudy was a truck driver for Wright Motor Lines until 1965. The family moved to Tribune, Kansas where Rudy drove truck for The Smith Ranch hauling cattle, which eventually took his family to Miles City, Montana in 1970. Rudy worked for The Smith Ranch for four years and then began driving truck for M&C Beverage until 1982. Rudy purchased his own 18-wheeler and called his company RuLe Trucking. Rudy and Velma were divorced in 1986. Rudy married Debbie Ehrmantraut in Cody, Wyoming. Rudy and Debbie operated RuLe Trucking until 1995; he then chose to drive a sugar beet truck seasonally in Billings, Montana. In 2000, he moved to Miles City and drove truck for Jerke Livestock. Rudy's passion was driving truck, covering millions of miles and many states through-out his career retiring at the age of 78.
Rudy is survived by his children: Carl LeBlanc, Tribune, KS, Pam Grimm (Chuck), Centerville, IA, Cherie Dyba (Val) Miles City, MT, Terry LeBlanc (Toni) Missoula, MT. He is survived by his siblings: Dan LeBlanc (Faye) Wichita, KS, Eleanor Arnold (Jack), who he referred to as his sweetheart, Tribune, KS, Charlie LeBlanc (Deb) Phillipsburg, KS, and 15 grandchildren, 22 great-grand-children, 3 great, great-grandchildren and numerous nephews and nieces. He is also survived by his special cat; Mr. Kitty. Rudy was preceded in death by his parents, Gabe and Iola LeBlanc, a brother Arthur in infancy, brother George LeBlanc, daughter Louise Brown, wife Debbie LeBlanc and wife Velma LeBlanc.
Memorials can be sent to Eastern Montana CASA/Gal, PO Box 1234, Miles City, MT, 59301.
Funeral Services will be held at Smith Funeral Home Downtown, 925 South 27th Street Billings, Montana on May 25th at 2:00 p.m.
Added: 3 years ago