R. Doris Moreno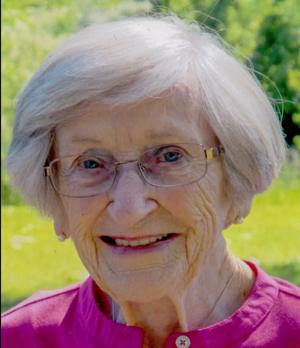 R. Doris Moreno
R. Doris Moreno passed away May 18, 2018, surrounded by her family at the age of 96.
Doris was born in Scobey. After selling their farm, the Kemp family moved to Wolf Point, MT where she graduated from high school in 1939. Beginning her education at the U of M in Missoula, she later graduated from the NW Institute of Medical Technology in MN, and became a lab technician working in Miles City. Doris married Walter Moreno in 1947, and after many years as a stay-at-home mother she began working at the family business, Furstnow's Saddlery, in 1965. She took over running the business after Walt's death the death of Walt in 1973.
In 1984-86, Doris spent two years as a housemother for Alpha Gamma Delta sorority in Corvallis, OR. She returned to Miles City for several years, and then moved to Missoula to live with her sisters. After the death of their sister Peg, Dorothy and Doris moved to Billings.
An avid duplicate bridge player, Doris was proud to become a Life Master. She was an accomplished seamstress and left a legacy of quilts to her children, grandchildren, and great-grandchildren. She also loved gardening and sharing her plants with family and friends.
Doris was a devout Catholic. Faith and family were of utmost importance to her.
She was preceded in death by her parents John and Margaret Kemp, brother John Bernard Kemp, sister Margaret (Peg) Wagner, twin sister Dorothy Degnan-Boos, husband Walter and daughter Monte. She is survived by her brother, Bob Kemp (Judy) her five children: Margaret (Bill) Balsam, Allan (Heidi), Mimi (Tim) Gallagher, Susan, Ed (Cindy), her ten grandchildren: Brooke (Tony), Wade, Wreford (Julie), Kelly (Jennifer), Anita (Josh), Brett (Maggie), Warren (Amy), Kyle (Emily) , Amanda (Michael), Alex, and fifteen great-grandchildren: Keinan, Tristan, Keller, Kelsey, Alexis, Shiloh, Alyssa, Monte Rae, Presley, Ayden, Jeffrey, Ashlynn, Logan, Callen, Alexandra, and a 16th is due in December.
A funeral mass will be said on Thursday, May 24, at 10 a.m., at St. Thomas the Apostle Catholic Church.
Condolences may be made at www.michelottisawyers.com.
Added: 3 years ago