These were the most popular baby names in Montana in 2017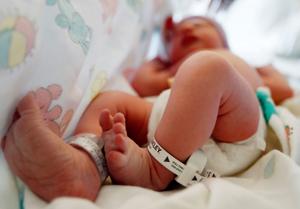 Maverick Morales was born on Wednesday to parents Brittany and Michael Morales of Billings at St. Vincent Healthcare. Maverick was the 85th most popular name in the U.S. in 2017.
OK. No peeking at the answers below.
If you were to hazard a guess at the top boy's and girl's names for 2017 in Montana, what ones would you choose?
On Thursday, the Social Security Administration released the top five most popular names for girls and boys in the state. It comes a week after the SSA published the top names in the nation.
The two lists share some names in common, but not in the same order. And, as always, traditional names help populate the list.
In Montana, the top boy's name was James; the No. 1 girl's name was Olivia.
Talk about a long shelf life, the name James hearkens all the way back to the Bible, while, according to several name origin sites online (behindthename.com and babycenter.com among them), Olivia first came to life in 1602 in Shakespeare's comedy "Twelfth Night."
The top five girls' names in Montana were Olivia, Emma, Harper, Ava and Charlotte.
For boys, the top five names in Montana were James, William, Liam, Oliver and Wyatt.
Nationwide, Liam and Emma ...
Added: one year ago