Trucks haul 1,400 tons of contaminated soil from Fort Peck Reservation oil spill site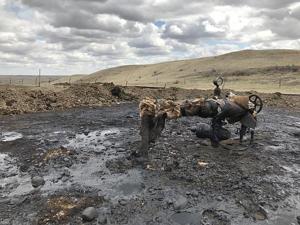 This Environmental Protection Agency photo shows the wellhead where the leak occurred, spilling oil and brine into a coulee and nearby stock pond over several months this winter.
Cleanup crews have so far removed an estimated 1,435 tons of soil that was tainted by an oil spill discovered on the Fort Peck Reservation on April 27.
That's more than 50 large dump trucks full, and there's still more contaminated soil to be scraped up and hauled away.
The soil is being transported to a disposal facility near Glendive, Oaks Disposal Services, said Joyel Dhieux, federal on-scene coordinator for the Environmental Protection Agency. The agency is overseeing the cleanup for the reservation.
The well had been shut down and was last inspected in December. It's believed that the wellhead froze and cracked in what was a brutally cold winter in the region. The crack leaked an estimated 90,000 barrels of brine with 600 barrels of crude oil from an Anadarko Minerals Inc. well in Valley County. The spill was discovered by a rancher flying his plane over the remote area.
The leaked mixture flowed downhill for about a third of a mile and into a stock pond.
"On May 7, AMI received approval to proceed with excavation of the oil and brine contaminated soils along the drainage from the well pad to the stock pond," according to the Environmental Protection ...
Added: one year ago