James Herbert Rehbein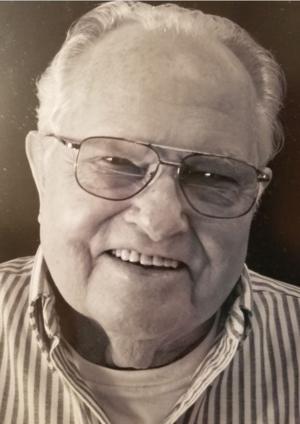 James Herbert Rehbein
James Herbert Rehbein, 92, passed away peacefully at home with his loving wife of 70 years by his side on Tuesday, April 17, 2018
Jim was born Herbert James Rehbein on July 23, 1925 in Lane, MT. Jim and Herman (Bud) were the 9th and 10th children of 15 and the second set of twins born to Alfred and Agnes Rehbein. The family moved to the farm and ranch South East of Lambert, MT. in the fall of 1931. He attended all 8 years of grade school at the Thomas School, SE of Lambert.
Jim graduated from the Sacred Heart High School in Miles City in 1943. He attended Carroll College until he was drafted into the Army Air Corp in 1944. Jim attended boot Camp at Camp Roberts, CA., before being shipped overseas to the Philippine Islands, Leyte, Samar, Sebu, and Negros. After a short time in the 925th Anti-Aircraft Battalion, he was stationed with the 314th Wing of the 20th Army Air Corps, on Guam, where he was a Teletype operator. He received an Honorable Medical discharge from the Army Air Corps in 1946 .
He married Beverly Jane Lindevig, November 25, 1947 in Sidney. They moved to Shelby, where Jim worked for the U.S. Bureau of Reclamations for the fall and winter of 1947-48. He then worked as a parts man for the Klingler Garage in Shelby. The family moved back to Lambert the winter of 1949, to help his parents with the family businesses. Jim worked at several jobs during the next fifteen years. He was the timekeeper for Ebasco Services, the general contractor building the Montana Dakota electric Plant at Sidney. In 1963, the family moved to Miles City where he managed the non-foods department of the Safeway store, then transferred to the Safeway in Helena the summer of 1965. In 1968, Jim started a new career and went to work for the State of Montana. He saw the Bureau of Conservation change several times to the Water Resources Board, the Department of Natural Resources and finally to the Department of Natural Resources and Conservation. In the Fall of 1975 he was transferred to Kalispell to open the DNRC office from which he retired in 1988.
Jim had been active in Veterans Affairs for many years. He was instrumental in getting the VA Clinic opened in the Flathead Valley. He was a Life Member of the Disabled American Veterans, Veterans of Foreign Wars and the American Legion, as well as volunteering at the Montana Veterans Home in Columbia Falls. He was also on the Memorial Board at the Montana Veterans Home from 1978 until resigning in 2011 due to health issues. Jim was also one of Flathead County's two representatives to the Legacy Legislature.
He is survived by his wife Beverly, his children Charlie (Georgie) Rehbein, Roberta Rehbein and Margaret Hartman all of Helena. Joseph (Kathy) Rehbein of Bozeman and Lois Rehbein of Kalispell: 12 grandchildren and 20 great-grandchildren. He is also survived by his sisters, Elizabeth Evenson, Lambert, MT, Emma Hanson, San Antonio, TX, Gertrude Hoffstot, Portland, OR, and a brother, Fritz (Ann) Rehbein, Rozet, WY and dozens of nieces, nephews and cousins.
Jim is reunited in Heaven with his oldest son James A. Rehbein (2012), his twin brother Herman (Bud) Rehbein (2011); brothers: Robert Rehbein (2012), William Rehbein (2008), Henry Rehbein (1974), Albert Rehbein (1947) and sisters: Catherine Williams (2015) Anastasia Bachini (2011), Monica Tanglen (2008), Mary Lawrence (2005), Margaret Regan (2002) and parents Alfred (1967) and Agnes (1975) Rehbein.
Mass of the Christian Burial will be held 10 a.m., Friday, May 11, at St. Matthews Catholic Church in Sidney, with Internment at Richland Memorial Park Cemetery with Military Honors. Please join the family for refreshments at the VFW following the burial.
A Memorial Luncheon will be held on Saturday, May 5, Buffalo Hills Funeral Home from 11:30 to 1:30.
In lieu of flowers, the family asks that you send donations to the Memorial Board, c/o Montana Veterans Home, Columbia Falls, MT or the North West Montana Veterans Stand Down and Food Pantry, Kalispell. Friends are encouraged to visit our website at www.buffalohillfh.com to leave notes of condolences for the family. Buffalo Hill Funeral Home and Crematory caring for the family.
Added: 4 years ago