Barbara Ellen Seader 'Bobby'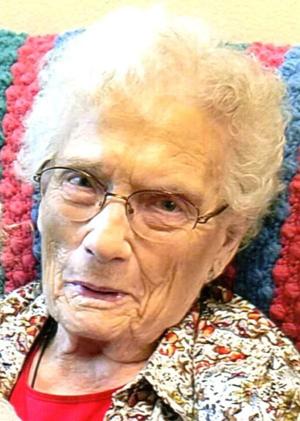 Barbara Ellen Seader 'Bobby'
Barbara Ellen Seader "Bobby" passed away on Tuesday, April 10, 2018, at MorningStar Senior Living.
Bobby was born on May 28, 1924, in Libertyville, Indiana, to Floyd and Faye Dowlin. After three months, she and her mother arrived to their home in Forsyth to meet her dad and older siblings, Floyd, Jr. and Peggy.
On July 12, 1942, Bobby married her sweetheart, Robert William Seader, in Miles City. They moved to Billings in 1951 after various moves, including Portland, Oregon, where Bob worked as a welder at the shipyards. In 1955, they had one daughter, Carolyn.
Bobby loved to sew, crochet and play cards. Later, she began painting and soon her home was filled with artwork. She was also active in Christian Women's Club, where she guided many Bible Studies.
Bobby especially loved her family. She's preceded in death by her husband, Bob; her parents; one brother and four sisters. She is survived by her daughter, Carolyn Farmer (Dan); granddaughters, Heather and Melissa (Larry); great-granddaughters, Ashlee and Kiawna; a great-grandson, Fletcher; a sister, Libby Wark; brothers-in-law Wayne Hatch and John Seader (Pat); sisters-in-law Norma Steinback and Sharon Williams; and many nieces and nephews.
Cremation has taken place. A memorial service will be at 2 p.m. Sunday, April 15, at MorningStar Senior Living.
In lieu of flowers, memorials may be made to Gideon's International, Billings West Camp, PO Box 20024, Billings, MT 59102, or a charity of one's choice.
Condolences may be made at www.michelottisawyers.com.
Added: 5 years ago