U.S.-China trade war will complicate Montana farmers' plans to grow wheat sales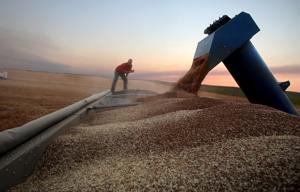 Truck driver Seth Meyer from Neufeld Harvesting guides the grain cart filling the last truckload of winter wheat heading to the elevator in Hardin for the day as crews harvest 2000 acres at Nessan Farms near St. Xavier in July of 2008.
Montana wheat farmers are eyeing a potential U.S. trade war with China, though tariffs would have moderate effects on state commodities.
China in recent years has been a reliable buyer of hard red spring wheat shipped from the Pacific Northwest. Sales in 2017 amounted to 26 million bushels, according data released last week by U.S. Wheat Associates, with about half the grain coming from Montana.
A 25 percent tariff on 103 U.S. products, including wheat, would hurt sales, said Cassidy Marn, trade and marketing manager for the Montana Wheat and Barley Committee. China warned of tariffs last week in response to President Donald Trump ordering tariffs on aluminum and steel to bolster U.S. production.
The bigger loss for Montana wheat would be future opportunities.
"It's unfortunate because it's a market we're going to develop, and this kind of puts a dent in things," Marn said.
Montana's hard red spring wheat sales to China last year amounted to about 17 percent of the state's 2016 production for that particular variety and 6 percent of the total wheat crop. While 13 million bushels shouldn't be minimized, Montana farmers harvested nearly 211 million bushels that year. The value of the China sales would be ...
Added: one year ago