Mary Jean Bertrand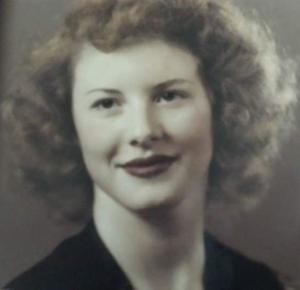 Mary Jean Bertrand
Mary Jean Bertrand
A beautiful lady, sweetheart wife and beloved mother slipped away ever so gently on April 1, 2018, at Edgewood Memory Care in Billings.
Mary Jean was born June 9, 1928, in Miles City. She was the second child of Herman R and Irene (Hitchcock) Venable.
Mary Jean was the caretaker of the family. She started by taking care of her younger brother Herm after her mother had a difficult time recovering from the birth. She became very adept doing this and found many after school and weekend jobs as a result. After the 8th grade, she and two girlfriends went to work for The Sisters of Mercy at Holy Rosary Hospital in the cafeteria. They were allowed one meal a day, and they were very cheap to feed, as they loved baked potatoes and ate them for every meal.
On Aug. 15, 1948, Mary Jean married James J Bertrand at Sacred Heart Church. She then worked at Foster Drug until the birth of their first child in Oct. 1949. She held a number of jobs after that including admissions clerk at Holy Rosary Hospital. She worked in the land title business for her brother Herm; after this, she went back to admissions where she eventually ended her official working career.
When Mary Jean retired, she loved spending time with her mother, Irene. She spoke fondly of the times they spent visiting and having tea together. During this time, she also tenderly took care of her daughter Katherine who was disabled by MS.
Mary Jean was a member of St. Joseph's Altar Society and secretary for the group for many years. She was a volunteer cashier at ST Vincent DePaul Thrift Store. She also was a life member of Veterans of Foreign Wars Auxiliary and was their secretary for several years.
When not busy volunteering, Mary Jean and Jim enjoyed traveling to California to visit Jim's mother and aunt. Throughout her life, she and Jim loved watching their sons (and grandsons) play sports. It was a rare occasion for them to miss games either at home or on the road. The trip of their lifetime was going to Italy with the National and State commanders of the VFW.
In 2006, Mary Jean and Jim moved to Billings, to be near their two boys and families. They enjoyed getting together with the "breakfast club" group consisting of former Miles City friends.
Mary Jean was preceded in death by her parents and a daughter, Katherine Gerace.
She is survived by her husband of 69 years, James J Bertrand; daughter Jacqueline Smith (Charles) and their son CJ and family, Heather, Chase and Kianna of Colorado; son, James Michael of Billings and his daughter Jennifer (Mitch) Jorgenson and family Jordan, Reeves and Maddux of North Dakota; granddaughter Traci and her son Garrett Flick of Ohio; and son Tracy Thomas (Stacy) and their sons Stuart and Carson of Billings. She is also survived by her brothers, Richard of Missoula, Montana, and his four daughters; and Herm (Diane) of Gresham, Oregon and their three daughters.
We are all grateful to have had you in our lives. Thank you for the memories and your kindness. We will miss you but are consoled by the wonderful reunion that is going on in heaven. Love you forever.
A celebration of Mary Jean's life will be set for a later date. Arrangements are in the care of Dahl Funeral Chapel and memories may be shared at www.dahlfuneralchapel.com
Added: 5 years ago