A relentless winter has made calving season rough for Montana's ranchers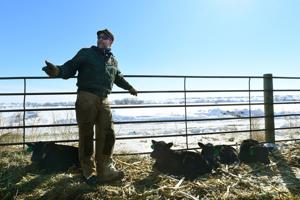 Doug Martin checks on new calves at his ranch near Kinsey on the morning of March 6.
Miniutes after birth, a young cow licks off her first calf in Doug Martin's calving barn near Kinsey.
Kinsey area rancher Doug Martin talks about recent snow and cold as he monitors cattle in his calving barn.
Doug Martin's young cattle watch over their new calves near Kinsey.
KINSEY — The crash from the calving barn brought Rio's pointed ears to attention as he watched Doug Martin calmly amble to the front door.
"She's been at it for a while," Martin said, peeking through the frosty glass of the roll-up door. "She was showing two hooves this morning."
It was almost noon. A second crash brought the cowboy and Rio the dog through the barn's side door, quietly so not to discourage the jet black heifer as she wrestled with the discomfort of labor. The 1,200-pound animal staggered a few steps forward and then, as her rib cage heaved with the panic of imminent labor, the first-time mom crashed her forehead into the crossbars of her steel pen.
Just one hoof emerged and then disappeared. An audience of other first-time moms and newborn Angus calves gazed with indifference at birth's painful dance.
Martin led his dog outside and shut the door to give the heifer some privacy. It would be the fourth calf to hit the straw-lined floor in less than a day.
The Kinsey rancher had bought 100 heifers the previous fall, all synchronized through artif ...
Added: one year ago