Icy roads, dense fog possible from Billings to Glendive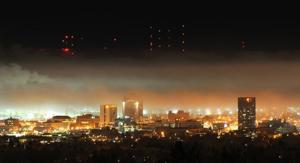 Dense fog and slick, frozen roads are possible for a large portion of Montana extending north, east and south of Billings Friday night. 
Fog could begin to develop within the next few hours, NWS Billings meteorologist Shawn Palmquist said around 9 p.m.
Visibility in foggy areas could drop to a quarter-mile. 
Extended areas of fog could be seen in Billings, Harlowton, Roundup, Lewistown, Miles City, Glendive, Baker, Broadus and even south of Sheridan, Wyoming. 
Rain and snow have left lingering moisture on and above roads, producing conditions not only for fog, but for icy roads as temperatures drop below freezing overnight. 
Temperatures dropped to the 20s east of Billings with nightfall, and temperatures in Billings could drop below 30 degrees. 
Drivers are encouraged to check weather and road reports before traveling into areas where fog or icy roads could be present. 
When entering a foggy area, drivers should slow down and use their low beams, Palmquist said. 
If significant fog is observed, it's possible NWS Billings could issue a dense fog advisory later Friday night. 
Added: one year ago