Martha (Mutzenberger) Hilger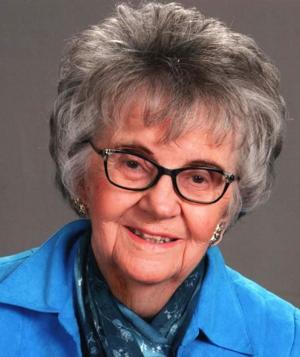 Martha (Mutzenberger) Hilger
GLENDIVE — Martha (Mutzenberger) Hilger passed away at Glendive Medical Center on March 8, 2018 following a long struggle which included cancers and heart disease.
A memorial service for all her many family and friends will be held Friday, March 16, 2018 at 11 a.m., at Zion Lutheran Church in Glendive, with Pastor Will Johnson officiating and with a luncheon to follow. In Martha's own pen as written within her orders: "before the service, on piano, I'd like easy listening music. No funeral dirge music! Life has been good!" ~~ Martha.
A private family committal service will be held at the Dawson County Cemetery in Glendive on Friday, March 16, 2018. Silha Funeral Home of Glendive has been entrusted with the arrangements.
Martha was born Oct. 4, 1928, to Andrew and Elizabeth (Baisch) Mutzenberger in Glendive. The youngest of seven siblings and a very premature newborn at 3 pounds 2 ounces, she spent her first several months in the hospital before being raised on a humble farmstead 12 miles East of Lindsay.
Martha married Henry "Bob" Hilger on June 20, 1948 in Glendive. They were blessed with four children and many grand, great and great-great grandchildren all of which she held very dearly. It was a joy for her to make quilts for as many as possible!
Some of her and Bob's greatest memories were taking the family fishing in Canada with the Kolstad family and other times sharing their favorite summertime activity of camping and water skiing.
She and Bob usually took their personal vacations in January since the employees at Hilger Chevrolet generally preferred summers. Thanks to winning several Chevrolet-Oldsmobile dealership promotions, they took many exciting adventures abroad. After retirement they spent some winters in Lake Havasu, AZ as well.
Martha was a lifelong member of Zion Lutheran Church in Glendive and active both state and locally with the Republican Party. Another hobby was her pastime playing bridge and pinochle, appreciating the many friendships she encountered over the years.
She was a lady of style, grace and manners with a sweet, generous spirit. A pillar of strength under the shadow of painful illnesses, injuries, or other disappointments. And of course sporting proper hair and attire when at all possible.
She was preceded in death by the love of her life Bob, in 2002, her brothers Art (1960) and Edwin (1976) Mutzenberger, sisters Selma Mutzenberger (1945), Hertha "Toni" DeBeaumont (2008), and Elsie Mutzenberger (2015).
Martha is survived by her sister Lorraine Guthrie of Riverton, WY, her children: Gayle (John) Schuch of Mesa, AZ with grandchildren Jeff (Lori) Steen, Troy (Kari) Steen, Erin (Adam Radunz) Steen, Kari (Bert) Stewart, and Terra (Tau) Watts; Karen (Jim) Hoffmann of Great Falls, MT with grandchildren Nathan (Anne) Hoffmann, and Matthew (Kaitlen) Hoffmann; David (Rita) Hilger of Miles City, with grandchildren Robin (Brandon) Holthus, and Nelson (Mandie) Hilger; and Robert "Mike" (Connie) Hilger of Glendive with grandson Ward (Heather) Hilger. Also dearly loved is 19 great-grandchildren and 2 great-great grandchildren.
Suggested memorials may be given to Zion Lutheran Church Endowment or a recipient of your choosing.
Remembrances and condolences may be shared with the family at: www.silhafuneralhomes.com.
Added: 5 years ago