Billings could get 9 inches of snow, while 'near-impossible travel' possible in Eastern Montana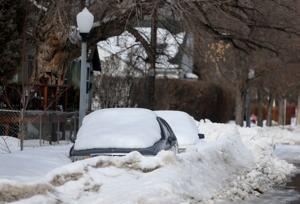 Parked cars are buried by snow piles from plows along Fourth Street West on Thursday.
A weather system expected to hit Billings this weekend could generate close to 10 inches of snow and bring near-blizzard conditions to parts of eastern Montana, potentially endangering newborn livestock and producing near-impossible travel conditions.
While snowfall appears highly likely for central and Eastern Montana, the complexity of the weather system has left forecasters with limited confidence about just how hard certain areas will be hit. 
"This is going to be one of those storms, the track of which dictates where the really heavy snow is, as opposed to some other heavy systems where the whole area can get blanketed," said Brian Tesar, a senior forecaster for the National Weather Service in Billings. The system has to potential to "clobber" certain areas, Tesar said. 
By Friday afternoon, the National Weather Service in Glasgow had seen improved confidence in their forecast models, leading them to forecast with high confidence snowfall for parts of their coverage area from Sunday through Monday. Up to 12 inches is possible along the Montana-North Dakota border, and 2 to 3 inches possible south of Malta. That snow could be accompanied by winds of 35 mph or greater. Those conditions could create "difficult to near-impossible travel," and possibly stress newborn livestock, according to a press release from NWS Glasgow. 
A winter storm watch will be i ...
Added: one year ago