Billings professor surprised with postcards thanking her for speaking about her Muslim faith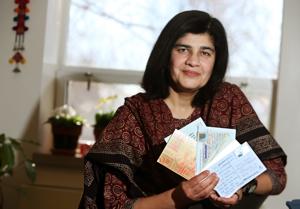 Ambrin Masood, an assistant professor in the College of Allied Health Professions at Montana State University Billings, has received postcards of support from around the country.
A handful of affirming postcards sent from people around the country applauding her courage to speak publicly about her Muslim faith has helped persuade Ambrin Masood to continue her outreach around Montana.
Masood, a faculty member at Montana State University Billings  originally from Pakistan, has received postcards from members of the group Postcard Underground, anonymous authors who pen and send postcards to speakers and causes they find inspiring. Some writers use their first name only; others offer only scant clues about their identity, save their handwriting and their postmark.
"It was such a nice surprise," she said of the postcards, all mailed to her MSUB office. "Who writes a postcard these days? They took the time to write and take it to the post office. They made an effort to reach out, and that matters to me."
Masood teaches counseling and rehabilitation in MSUB's College of Allied Health Professions. Last year Humanities Montana s ...
Added: one year ago