Members of nonprofit focused on helping address community problems gather in Billings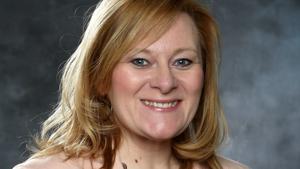 Noelle Nachreiner of Indianapolis is the national president of Junior Chamber International. She's in Billings this weekend for the Montana Jaycees' year-end convention at the Northern Hotel.
It's Noelle Nachreiner's job to travel the U.S. and abroad, finding out what the nation's 12,000 Jaycees are doing right, patting them on the back for it and sharing that good news wherever she goes.
"We all want the same things," said Nachreiner, 37, of Indianapolis, the organization's national president. "We want to make our communities better places to live, work and play. Uniting is what Jaycees do very well."
Jaycees, formally known as Junior Chamber International, are holding their statewide convention at the Northern Hotel Friday and Saturday. About 70 members from eight chapters, including Billings, are expected.
Among the celebrating, learning, competing and speechifying, attendees will also put in a few hours Saturday at the Montana Rescue Mission, sorting donations and completing other tasks.
Nachreiner said until she arrived in Montana this week, she hadn't heard of a community service component as part of a statewide convention. She said she'll be putting that bug in the ears of other chapters.
JCI is a memb ...
Added: 11 months ago