Hundreds of lives were upended before Montana pardoned 1918's seditionists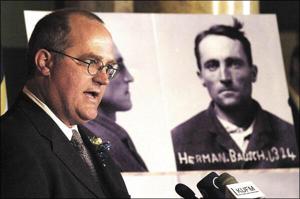 Drew Briner, grandson of Herman Bausch, whose jail mugshot is in the background, reads from Bausch's journals he kept while he was imprisoned under the Sedition Act. At the Montana Capitol in 2006, then-Gov. Brian Schweitzer pardoned 78 people who spent time in prison under the act during World War I. The crowd gave Briner a standing ovation after his speech.
Farida Bausch Briner, daughter of Herman Bausch, pictured in displayed photo, shakes hands with Gov. Brian Schweitzer in 2006 before he signed the pardon for her father.
Ben Kahn
H.W. Schwanz, a blacksmith with a shop on South 27th Street, ran for alderman, or councilman, in 1909. A native of Wisconsin, he moved to Billings about 1897. Herman Schwanz was forced to resign as a city alderman during the Liberty Bond fiasco and Sedition Act period of World War I. Schwanz said he was a loyal American.
The Stapleton Building in downtown Billings. Architect Curtis C. Oehme had an office there. 
The business card listing for architect Curtis Oehme in 1918 before he was forced to resign as the chairman of the state board of architecture for allegedly harboring pro-German views during World War I in Billings. 
Herman Bausch was one of three people from Yellowstone County sentenced to prison for speaking out against America's involvement in World War I. 
Of all the acts committed by "Liberty Committees" in the name of patriotism in Montana during World War I, maybe the greatest misca ...
Added: one year ago