Freezing rain switches over to snow in Billings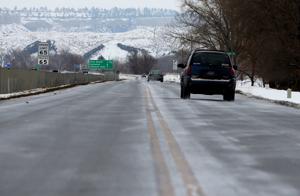 Cars drive down an ice-covered South Frontage Road as freezing rain moves through the area Thursday, February 8, 2018.
Thursday morning roads in the Billings region were slick with ice, and more freezing rain is expected before precipitation switches to snow in the afternoon.
Snow is expected to begin falling earlier in the day north and east of Billings, according to the National Weather Service.
Previous estimates of accumulation from this storm have been downgraded since Wednesday, with only 4 to 6 inches expected in Billings, as well as locations west to Livingston, east to Ekalaka and north of Roundup.
A band of the region including the areas around Forsyth and Miles City could see higher snow totals up to 8 inches, according to the weather agency.
Snow is expected to keep falling through Friday evening.
Frigid air from the north will push Thursday's overnight low into the negative single digits in Billings, NWS predicts. The high Friday is forecast to peak at 2 degrees before falling into the negative teens overnight.
Wind chill values of minus 11 and minus 29 are projected for Thursday night and Friday night, respectively.
Substantial snowfall in the mountains around Cooke City prompted the Gallatin National Forest Avalanche Center to issue an avalanche warning for the area late Thursday morning.
"Heavy snow and strong wind is creating very dangerous avalanche conditions," th ...
Added: one year ago