Rare freezing rain causes multiple crashes, highway closure in south-central Montana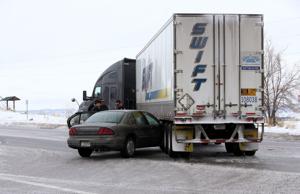 No one was injured when a car and a semi truck collided at the intersection of Lake Elmo Drive and Bench Boulevard as freezing rain coated the roads Thursday, February 8, 2018.
Emergency personnel on the scene of a truck crash atop the I-90 interchange at King Avenue West that closed the road Thursday morning.
Emergency responders help the driver of a car into an ambulance after she lost control on Interstate 90 near South Billings Boulevard, ending up in the median Thursday, February 8, 2018.
Cars drive down an ice-covered South Frontage Road as freezing rain moves through the area Thursday, February 8, 2018.
Vehicles piled up all over the Billings area Thursday as freezing rain fell throughout the region and prompted at least one highway closure in south-central Montana.
Montana Highway 3 from Harlowton to Garneill was shut down Thursday afternoon by the Montana Department of Transportation.
"There's ice everywhere, and people just aren't slowing down," Montana Highway Patrol Sgt. Scott Ayers said.
In the Billings area, a six-car pileup involving four separate crashes caused an eastbound portion of Interstate 90 to shut down for more than two hours near the King Avenue exit, said MHP Capt. Keith Edgell, adding that no one was injured.
A car lost traction and slid into a guardrail as it was traveling in front of a semi truck, creating a chain reaction that included a garbage truck, a pickup and two other vehicles.
...
Added: one year ago