Elliot Edward Waller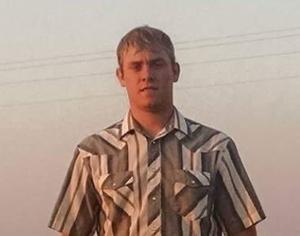 Elliot Edward Waller
CIRCLE — Elliot Edward Waller, 22, passed away on Jan. 28, 2018 as a result of a vehicle accident near Circle.
He was born on Feb. 21, 1995 in Miles City, the son of Harold and Jennifer Hance Waller. He attended Bo Peep grade school, Redwater middle school, and graduated from Circle High School in 2013.
Elliot was passionate about many things in his short life. He had a love for farming and ranching and took on a lot of responsibility at a young age, which prepared him for the challenge of owning and operating a farm of his own. He was a caring and kind person with a personality that won the hearts of all who knew him, both young and old.
Elliot was a sports enthusiast, and some of his favorite hobbies included hunting, fishing, and snowmobiling. Elliot made a point to be around friends and family every day of his life. He always looked forward to working hard alongside and gaining knowledge about farming from family and close friends, especially his grandpa Gordy. He was sure to fit in last minute trips with all of his buddies, too. When he wasn't busy working, he was in Bozeman going to football games, boating and fishing at Fort Peck reservoir, hunting with family and friends in the countryside, or snowmobiling in Cook City, West Yellowstone, Taylor's Fork, and Buck Creek. His need to explore the world was without bounds, as he had recently booked a backpacking trip to Australia.
Elliot was loved by all of his family and many members of the of Circle community. He focused on building relationships with all kinds of people in order to gain more knowledge and continue to grow his farm and ranch. Elliot's drive and determination to always want to better himself was the reason for his success at a young age. Farming was Elliot's dream since he was big enough to play in the house and yard with his toy tractors and trucks. He had so many more aspirations that he had set his mind to achieve, and we can rest easy knowing he is happy and at peace with all that he accomplished in his short time. His grandfather, father, and all other family and friends are proud of the young man he became.
Elliot is survived by his father Harold Waller of Circle; his mother Jennifer Waller (Landy Leep) of Billings; his sister Vanessa Waller of Bismarck, ND; his grandparents Gordon and Helen Waller of Circle; Grandmother Martha Hance Corrow of Circle; his God parents Larry and JoDee Arnston; his sweetheart Jayne Haynie; and numerous aunts, uncles and cousins.
He is preceded in death by his grandfather George Hance, his great grandparents Harold and Lucille Waller, Floyd and Clarissa Quick, Francis Maddox; his aunt Mary Redlich and his uncle CK Drew; and cousins Kory Hance and Finley Leibrand.
Family will receive friends on Friday, Feb. 2, 2018 from 4-7 p.m. at Stevenson and Sons Funeral Home in Circle. Funeral Services will be Saturday, Feb. 3, 2018 at 1 p.m. at the Circle High School Gymnasium. Condolences may be sent to the family by visiting: www.stevensonandsons.com.
Should friends desire, memorials may be made to the Elliot Waller Agricultural Scholarship at the Redwater Valley Bank (PO Box 60, Circle, MT 59215).
Added: one year ago