Local committees accused Montana's judges and federal officials of disloyalty in 1918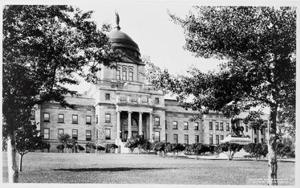 The Capitol building is shown in Helena in the early 1900s
Main Street in Forsyth, circa 1910.
Stone Matlock, shown in 1926. He served four terms as sheriff during his 17 years of service in law enforcement work in Yellowstone County. 
"Paranoia strikes deep
"Into your life it will creep
"It starts when you're always afraid
"You step out of line, the man comes and takes you away."
— "For What It's Worth" Buffalo Springfield (1966)
Fifty years after the hysteria of World World I, songwriter Stephen Stills wrote a song that would become an anthem for war — this time the battlegrounds he spoke of weren't in France, they were in Vietnam. 
But those words just as succinctly sum up Montana, 1918 — a century ago.
Fear of Wobblies, fear of Germans, fear of spies had blossomed into full-fledged paranoia by citizens who started to suspect that even public officials at the highest level were secretly "pro-German."
Not content to ban German from being spoken or jailing card-carrying union members, "liberty committees" turned their sights on other more powerful targets. 
Judge Crum must go
In February 1918, a committee closely resembling The Third Degree Committee in Billings popped up in Forsyth and Rosebud County. "The Hundred" targeted District Judge Charles L. Crum, who supposedly had pro-German leanings.
It started when C ...
Added: one year ago