Snow to continue into Monday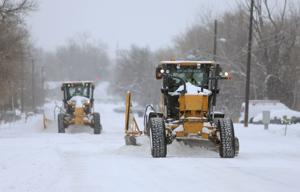 CMG Construction plows clear snow on Washington Street on the Billings South Side on Friday, December 29, 2017.
Another round of winter weather is expected to drop about a half-foot of snow in Billings Sunday night, following up to 9 inches that fell overnight into Sunday morning.
Between 5 and 7 inches is expected in the region beginning at about 6 p.m. Sunday, according to the National Weather Service's office in Billings.
"Most of that's going to be falling this evening and overnight," NWS meteorologist Wright Doggs said Saturday. "When folks hit the road tomorrow for their commutes, they're going to probably see some heavy snow on the roads, and should make sure they leave early, and of course make sure the kids are bundled up for the snowy weather and colder temperatures as well."
An Arctic cold front moved through Eastern Montana on Saturday. Highs in the teens and overnight lows in the single digits are expected through Tuesday night.
The storm is expected to dump a total of over a foot of snow in Billings before tapering off on Monday evening. The city's engineering department announced Sunday that plows would begin cleaning residential streets in Area 3 at midnight. That area covers part of the West End, south of Broadwater Avenue and west of Fifth Street West. It extends south to South Frontage and Laurel roads.
Following Area 3, residential plows will move into the areas farther north, then the Heights, before plowing down ...
Added: one year ago