'It's basically just pure ice out there' as several crashes are reported north of Billings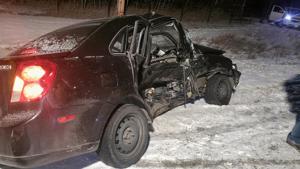 A photograph of a car struck Wednesday night on Highway 312 near Shepherd and Huntley. Road conditions were reported to be icy in the area after melted snow froze after sunset. 
After a burst of daytime snowfall melted and then froze after sunset, Montana Highway Patrol troopers were dispatched to four reported crashes on a 1.3-mile stretch of Highway 312 near Huntley in an hour-and-half's time Wednesday night. 
"It's basically just pure ice out there," said Shepherd Volunteer Fire Chief Phil Ehlers, adding that people should allow more time to slow and stop ahead of traffic.
"Just because you've got four-wheel drive, doesn't mean you've got four-wheel stop," he said. 
Wednesday's short bursts of snow could be the prelude to a weather system with the potential to drop between 6 inches and a foot of snow over Billings from Saturday through Monday, according to the National Weather Service in Billings.
MHP Trooper Kirk Robbins advised people to take a rain check on nonessential travel in the area. 
"It's pretty slick out here east of town on 312," Robbins said, describing some parts of the road as completely covered in ice. 
The Montana Department of Transportation's road conditions map described 312 as covered in scattered snow and ice. 
The four crashes reported between 5:30 p.m. and 7:10 p.m. were:
A crash without injury in the area of Highway 312 and Shepherd Road around 5:30 p.m.
A crash with injury ...
Added: one year ago