Ruth Thomas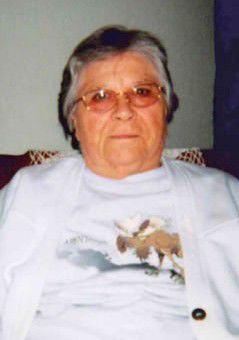 Ruth Thomas
Ruth Thomas passed away on Jan. 21, 2018. She was born to Almer and Minnie Swenson on Sept. 7, 1922 in the south bedroom of the Kesten farm in Minnesota. Ruth attended schools in that area and after high school graduation moved with her family to Billings. She worked as a bookkeeper for Sig Ellingston Livestock Commission Company until marrying her handsome cowboy, Albert (Dyke) Thomas in 1946. Ruth worked with Dyke on several ranches in the Billings area before moving south of Miles City to the Hunt Ranch in 1959 where they stayed until 1975. After that they worked other ranches in the area until moving to the Worden area to retire. Dyke passed in 1994. Ruth then moved into the Project Apartments soon thereafter.
Ruth was a lady bronc rider and jockey in her younger days. She will be remembered for her ability to do anything that she wanted to do. Besides being a great cook, she was an excellent seamstress. She always had a huge garden, so she could can and freeze for the winter months. Ruth knitted and crocheted as well. She always had a good book that she was reading or doing puzzles. She learned to drive a Model A and went on to learn how to maneuver her way around a computer and send emails. Ruth had a spirit that never failed her and an exceptionally loving heart.
Surviving Ruth are her daughters Becky Schilling (Gary) and Mary Lou Iverson (Al) along with her grandchildren Cory Jackson (Wendy), Greg Iverson, and Jody Haines (Nathan). She also is survived by her great-granddaughters Hayden Haines and Blakeley Haines. The family would like to thank all the people and services that helped to keep her independent in her later years.
Memorial Service will be held 10 a.m., Saturday, Jan. 27, 2018, at Smith Downtown Chapel, 925 S 27th St in Billings. If anyone would care to donate in Ruth's name please consider the Worden Fire and Ambulance Service, in Worden, MT. Condolences may be shared with the family by visiting smithfuneralchapels.com.
Added: 3 years ago