T. Boyne Gundlach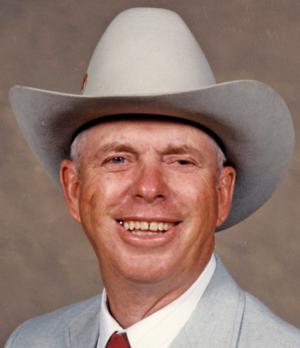 T. Boyne Gundlach
EKALAKA — Funeral Mass for T. Boyne Gundlach, 87, of Ekalaka, will be 11 a.m., Saturday, Jan. 27, 2018, at Stevenson Funeral Home, Ekalaka, with Father Phillip Chinnappan celebrating. Burial will follow in Beaver Lodge Cemetery.
Family will receive friends from 5-6:30 p.m. with a time of sharing starting at 6 p.m., on Friday, Jan. 26, at Stevenson Funeral Home, Ekalaka.
Boyne passed away on Thursday, Jan. 11, 2018, at the Hospice unit in Miles City.
Theodore Boyne was born Aug. 10, 1930, in Ekalaka, the son of Walter J. and Marcella (Nies) Gundlach. Growing up, he attended country school, later graduating from Carter County High School in 1948. Boyne married Bonnie McLeod on Nov. 26, 1955. They were blessed with five children, Kelly, Marie, Mark, Pat and Tom. Together they raised their family east of Ekalaka on the Frank Snow Place. They enjoyed ranching there, while raising registered thoroughbred and quarter horses as a sideline and hobby. Boyne was a talented musician, he sang and played guitar for dances and parties all over the country since his high school days. He was also an accomplished harmonica, juice harp, and piano player. His love of music was only surpassed by his love of horses. In later years, he enjoyed and became proficient in pitching horse shoes and won several titles. Following the death of Bonnie in 1984, Boyne continued to make his home on the family ranch even though the joy of it was overshadowed by loneliness, until 1993 when he was introduced to Sue Ann Joy by her son-in-law, Bob Smith. Through a leap of faith, Sue made the transformation from city girl in Butte Mt. to country girl, when the two were married in 1994, making the Gundlach ranch their home for several years. For the past 20 years, they have spent their winters in Yuma, AZ and their summers visiting their children. Boyne was a lifelong member of St. Joan of Arc Catholic Church, Knights of Columbus, National Horse Shoe Association and Ekalaka Track and Arena.
Boyne is survived by his wife, Sue of Mesa, Arizona; daughter, Marie (Stew) Schipman of Miles City; sons, Kelly (Lea) Gundlach of Birney, Mark (Sally) Gundlach of Fruitland, Washington, Pat (Starla) Gundlach of Miles City, Tom (Pattie) Gundlach of Salt Lake City, Utah; step-daughters, Janice (Bob) Smith of Mesa, Arizona, Jodi (Brad) Macumber of Chandler, Arizona, Joni (Michael) Lege of Mesa, Arizona; sisters-in-law, Mary Gundlach of Spokane, Washington, Wanda Gundlach of Pendleton, Oregon; brother-in-law, Donn Schinman of Yuma, Arizona; 11 grandchildren, Mandy (Paul) Good, Levi (Holly) Gundlach, Tracey (Tyler) Simard, Jennifer Adams, Jessy (Patrick) Creary, Sammy (Chris) Ching, Amber (Matt) Anderson, Alan (Danielle) Gundlach, Abby (Michael) Morris, Nick (Lyndsey) Gundlach, Jaimee (Casey) Frederick; three step-grandchildren, Brynn (Dan) Skellan, Colby (Kendall) Macumber, Jordan Jackelini; and 30 great-grandchildren.
He was preceded in death by his parents, Walter and Marcella; wife, Bonnie; brothers, Wayne, Earl "Bud", and Louie Gundlach; sister, Myrtle Schinman (passed away 24 hours after Boyne); brother-in-law, Alex Macnab; and grandson, David Schipman.
Remembrances and condolences may be shared with the family at www.stevensonfuneralhome.com. Stevenson Funeral Home, Ekalaka.
Added: 4 years ago