YWCA Helena names former state auditor Monica Lindeen as new executive director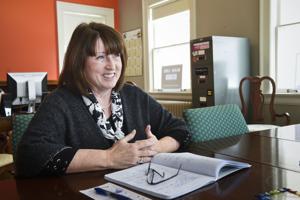 Former state auditor Monica Lindeen discusses her new role as executive director of YWCA Helena last week at the YWCA.
Former state auditor Monica Lindeen will serve as the new executive director of YWCA Helena.
The YWCA in Helena was founded in 1911 and initially provided housing for women who were working or looking for employment during a time when women generally didn't live alone. Now the organization has shifted to working on racial justice and civil rights, empowering women and their children and supporting the health and safety of women and girls.
"I've always tried to do things to advocate for people," Lindeen said. "I'm incredibly honored they chose me."
Lindeen co-founded and eventually sold Montana Communications Network. After serving four terms as a Democrat in the state House of Representatives representing a district that stretched from Billings to Miles City, Lindeen served two terms as state auditor starting in 2009. Lindeen lost a bid for Secretary of State in 2016. She said she took the last year to step back and consider what she wanted to do next.
"I was pretty exhausted," she said. "It feels good to take a step back from that political world."
But when Lindeen saw the YWCA job open up after former director Kellie Goodwin McBride took a job with Lewi ...
Added: one year ago