Hazardous driving conditions prompt road closures in south-central Montana during winter storm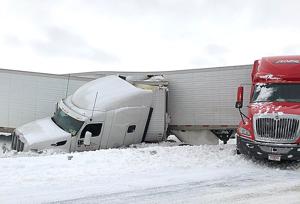 A pair of semi tractor-trailers collided west of Columbus Wednesday morning.
Traffic backs up after a pickup truck crash damaged traffic signal lights at Highway 87 and Main Street Wednesday morning.
Taylor Whittle snowblows his driveway on Reimers Park Drive during a snowstorm Wednesday.
Brownie barks at her owner Margaret Stiles as they shovel their driveway on Ramada Drive on Wednesday.
Brownie a mixed-breed rescue dog originally from Texas, plays in the snow on Ramada Drive during a snowstorm Wednesday.
A winter storm dropped freezing rain and around 4 inches of snow on Billings Wednesday morning, creating hazardous driving conditions throughout the region and prompting at least two local school closures.
Temperatures hung in the 30s overnight as moist air began moving through the Billings area, with overnight rain freezing on roadways when an Arctic air system moved into the region Wednesday morning.
Low visibility, slick roads and drifting snow disrupted morning travel in the region, and several wrecks caused temporary road closures throughout the day. Multiple slide-offs were reported in the area. Traffic was backed up in the Billings Heights after a pickup crashed into a traffic control box at the intersection of Main Street and U.S. Highway 87.
Citing poor road conditions, the Billings Police Department also temporarily closed Zimmerman Trail on Wednesday morning before reopening it in the afternoon.
Montan ...
Added: one year ago