Miles City woman gets probation for conspiring to distribute meth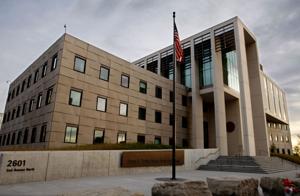 James F. Battin Federal Courthouse
A Miles City woman who admitted meth conspiracy charges will spend four years on federal probation.
In U.S. District Court in Billings on Wednesday, District Judge Susan Watters followed probationary recommendations from both the prosecution and defense attorneys in sentencing Elizabeth Jean Myers, 32.
Watters noted that the probationary sentence was a significant break from the guideline range of about nine to 11 years but also said the case had unique aspects that warranted probation.
When Myers got indicted on federal drug charges, she was already serving a state sentence on separate but related conduct and was in a treatment program, Watters said.
Myers also had a "dismal childhood," the judge said, in which Myers suffered substance, mental, physical and sexual abuse.
Myers pleaded guilty in August to conspiracy to possess meth with intent to distribute.
Myers apologized for her conduct and said she was committed to staying sober and contributing to her community.
Prosecutors accused Myers, and her co-defendant, James Toms of Miles City, of conspiring to distribute meth in the community from about January 2014 until about May 2015.
Myers got arrested for traffic violations in May 2015 in which officers found meth and drugs in her vehicle and was ultimately convicted on state criminal endangerment charges involv ...
Added: one year ago