Harriet Irene Wiseman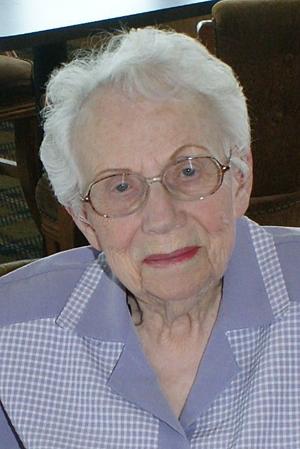 Harriet Irene Wiseman
Harriet Irene (Lentz) Wiseman was born on June 28, 1920 in Redwood Falls, MN. She spent her school years in Baker. She was the oldest of seven children and was the designated disciplinarian for the younger siblings. After high school she moved to Miles City to attend and graduate from the Holy Rosary Hospital nursing program. She met G. Dee Wiseman and they were married on November 28, 1942. The family moved to Billings. Harriet worked as a nurse in the pediatric ward at Deaconess Hospital and then at the Children's Clinic. In 1969, she and Dee moved back to Miles City, where they had purchased the Squire Shop men's clothing store. They operated the Squire Shop until 1986.
Harriet is survived by her Son Dick and wife Pat Wiseman, daughter-in-law Sandra Wiseman, brother Karl (Buzzy) Lentz, brother Everett and wife Bev Lentz, sister-in-law Ruth Lentz, brother-in-law Mads Anderson, grand children Jennifer and husband Jeff Sikorski, Carrie and husband Joe Mott, Melissa and husband James Elliott, great-grandchildren Kelsey, Courtney, Hope, Bryan, Bree Ann, Sara, Kallie and Philip and two great-great-grandchildren.
Harriet was proceeded in death by her parents Karl and Edna Lentz, her husband Dee Wiseman, her son Robert Wiseman, brothers Bob, Jack and Donald Lentz, and sister Ruth (Lentz) Anderson.
A visitation will be held on Friday, Nov. 17, with family receiving friends from 4 to 6 p.m., at Stevenson & Son's Funeral Home in Miles City. A funeral service will be held on Saturday, Nov. 18, at 11 a.m., at Stevenson & Son's Funeral Home in Miles City. Interment will be held at the Bonnievale Cemetery in Baker. Condolences can be made to the family by visiting stevensonandsons.com. Should friends desire memorials can be made to the Wake Up & Lace Up Foundation, 107 Balsam Dr., Miles City, MT 59301.
Added: 5 years ago