Leontina Margaret Whitbeck 'Smitty'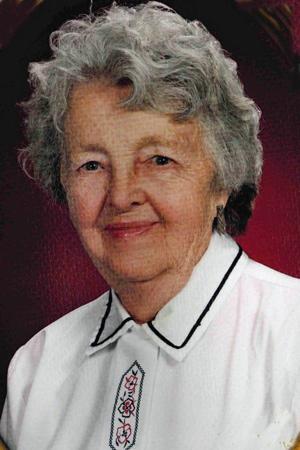 Leontina Margaret Whitbeck 'Smitty'
Leontina Margaret Whitbeck "Smitty" passed away on Nov. 9, 2017, of natural causes, at Wyndstone Novak Cottage. She was 95.
She was born on a farm outside of Roscoe, South Dakota, on Jan. 21, 1922. She was a nurse in Miles City, where she met her future husband, Warren Whitbeck. From this marriage, they had three children: Jewel Whitbeck of Yuma, Arizona; Barbara (Tom) Fox and their children Kacey (Brock) Isakson, and Jarrod (Loni) Fox; and Jim (Colleen) Whitbeck and their daughters Katie (Shane) Winden, and Jill (Ross) Powell, all of Billings. She is also survived by her three brothers, Alvin (Jean), Marvin and Alton (Sylvia) Schmitt; and her nine great-grandchildren. Preceding her in death is her husband Warren and brother Art.
Services will be at 2 p.m. Friday, Nov. 17, at American Lutheran Church, 5 Lewis Ave. Smitty was known to enjoy a margarita, so please join us at her home following the service for a reception, where we will be serving her favorite drink and celebrating her life.
Memorial contributions can be sent to American Lutheran Church, RiverStone Hospice, or a charity of your choice.
The family would like to give a special thank you to the caring staff at Wyndstone Assisted Living.
Smitty will be missed for her genuine love of life.
Condolences may be made at www.michelottisawyers.com.
Added: 4 years ago