Bernadine Dolores Nelson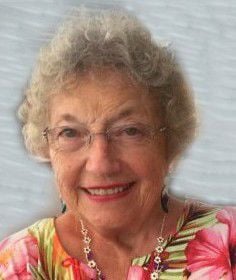 Bernadine Nelson
Bernadine Dolores Nelson, age 79, passed away on Monday, Oct. 30, 2017, at Canyon Creek Memory Care in Billings.
She was born on July 8, 1938, in Billings, to parents Fred and Clara Getz. She graduated from Laurel High School in 1956 and married Wally Nelson on Sept. 6, 1958.
Bernadine taught dance for over 40 years in nearly every location they lived, including Laurel; Lewistown; Bismarck, North Dakota; Billings and Miles City. She also organized a can-can group, the Cow Capital Kickers, in both Miles City and Cody, Wyoming. After retiring from teaching dance, she worked for Maurice's for 17 years in Miles City and Cody.
She enjoyed spending time with family, camping, gardening, crocheting and knitting, and having coffee with her friends.
Bernadine was preceded in death by her parents, brother Orville Getz, daughter Shelley Nelson Wettstaed, and grandson Corbin Jerrel.
She is survived by her loving husband, Wally Nelson; her children Greg (Kathie) Nelson, Shari (Tom) Watson, Sharla (David) Jerrel; and grandchildren Josie Nelson, Josh Nelson, Brandon (Kalen) Watson, Blake Watson, McKinsey Jerrel and Briar Jerrel.
A memorial service will be held at Smith Downtown Chapel, 925 S. 27th St., at 1 p.m. on Tuesday, Nov. 7.
The family would like to thank Canyon Creek Memory Care and their caregivers and Compassus Hospice for their compassionate care and support.
In lieu of flowers, memorial gifts may be made to the Alzheimer's Association or charity of your choice. Condolences may be shared with the family by visiting smithfuneralchapels.com.
Added: 4 years ago