Posted by
(+31)
6 years ago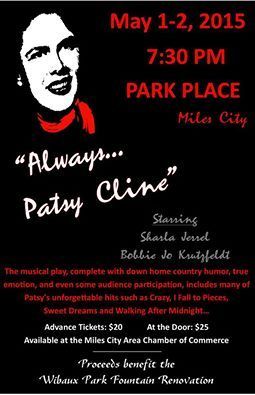 ALWAYS, PATSY CLINE
FLORENCE STACY FOUNTAIN
BENEFIT
Starring
Sharla Jerrel and Bobbie Jo Krutzfeldt
May 1 – 2, 2015
Park Place
7:30pm
Advance tickets ~ $20 Chamber of Commerce or City Hall, $25 at the door.
The Florence Stacy Fountain in Wibaux Park has long been a place for daydreams, contemplation, romance and meeting friends. The lovely music of bubbling water in the beautiful setting of Wibaux Park has cast a magical spell for many, many Miles City generations. It has lured our youth, and the young at heart to
splash, laugh and play, or perhaps just dip fingers or toes while thinking.
As you enjoy "Always, Patsy Cline" you will give future generations the Music of the Florence Stacy Fountain
For additional information please call the Chamber at 232-2890, or the Historic Preservation Office at 874-8616.
[Edited by Historic Preservation Office (4/29/2015 3:36:20 PM)]