Photographic Proof!
Posted by
(+15405)
11 years ago
Sorry Hal: there is a difference between they "do it in the woods" and seeing them "do it in the woods". We could be dealing here with "Pooh placed by Palin".
[This message has been edited by Richard Bonine, Jr. (6/26/2011)]
Posted by
(+10304)
11 years ago
No . . . I am quite certain that this was excreted by the real thing. The tracks leading up to this deposit match those of a sow & cub that have hanging out in the neighborhood.
Here's a shot of Jr. Bear a neighbor took the other evening. Mama Bear is sleeping behind the fence.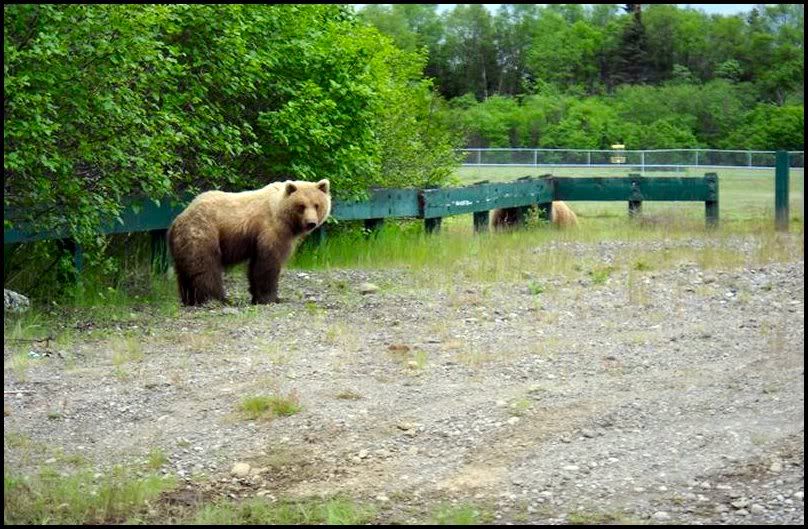 Posted by
(+246)
11 years ago
And I have proof of Aliens!
Photoshop was used on this image, but only for color correction and image enhancement. Nothing was added! Honest!
[This message has been edited by Dave Golterman (6/27/2011)]
Posted by
(+1798)
11 years ago
Careful, Hal!!!

I know you don't need me to tell you this, but seeing that photo of the sow and cub makes me think about how aggressive and violent mother bears are when it comes to protecting their cubs. Let's hope she moves her family away from the residential area and, in the mean-time, does not attack anyone who might wander too close.

...BTW, are any of the "rangers" or wildlife officers of your area doing anything about this. or can they???
Posted by
(+10304)
11 years ago
Shu, we are always cautious this time of year. Me? I could serve as the poster boy for caution.

Most often problem bears are dealt with by private citizens rather than by Wildlife Troopers. I am hoping now that the fish are starting to run Mama bear will move on and not become a problem. I'd not like to see this cub orphaned - he's just a yearling so he'd not make it on his own. But we'll see how things play out. Might not play out so good though - it sounds like she might have taken a neighbor's dog last night. If she did, she'll likely come back for another meal.

Statistically speaking there's something like 3 browns/griz for every person in the region. And when the fish run, everyone - bear & human alike - congregates where there are fish. But they are surprisingly few close encounters between bears and humans here. Most of the time both species seem to make an effort to respect one another's space.

The most dangerous time seems to be late fall / early winter. It seems there is always a bear or two lingering around that did not accumulate enough fat reserves to go into hibernation. Most often they are old boars that could no longer fight for a good fishing spot. Come mid October, those bears are desperate for food of any kind and become very aggressive.

Last autumn (maybe the one before) there were two close calls here in our village. In one case a guy noticed bear tracks in the snow as he drove up his driveway - he pulled up close to his house and made a dash for the door. The bear came out of the brush charging at him. His dog, which had been hiding, came out of the brush too and distracted the bear long enough for him to open the door and grab his rifle. He dropped the bear - it literally fell on his front step. It was an old boar and was mostly skin and bones. It measured over 10 feet from nose to tail, was nearly toothless with age, and was scarred up from losing fights during the summer. The other instance that fall played out along similar lines and also involved and old boar that was desperate for a meal.

It's been three years since we've been troubled at the house. That summer 3 sub adult males camped out in the brush in the neighborhood. They broke into several houses and garages and just raised all kinds of heck. One was killed in the brush about 75 yards from our front door. One was killed about a half mile down the trail from our house. The other just disappeared.
Posted by
(+1798)
11 years ago
Ok, thanks for the info. I was curious...never a dull moment with the bear population being what it is, I guess.