Montana officials have a month to address jail crowding — or they'll lose $2M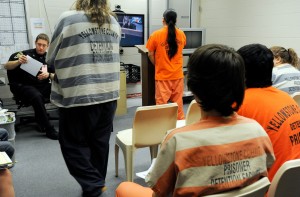 Yellowstone County Detention Facility inmates crowd into a room to make video courtroom appearances in December 2013.
The Montana Department of Corrections has about a month to get 60 to 70 people out of county jails, or it loses $2 million.
"We're sure going to make our best effort at it," said Kevin Olson, administrator of the Probation and Parole Division. "But if we fall short, we fall short."
Olson said the department would not make hasty release decisions and compromise public safety in its efforts to reduce jail crowding.
The provisional $2 million owes to a footnote lawmakers added to the budget bill late this spring trying to force quick action on a problem counties have complained about for years.
The footnote requires the department to reduce its county jail hold number to 250 by the end of the year, from a high of 410 this summer. County jail holds refer to people in state custody who are being held in jail for a variety of reasons, including pending parole violation hearings or placement at a prison, treatment or prerelease center.
(The DOC does not have a precise number for the current daily jail hold population, saying an estimate of 310 to 320 is the only figure immediately available.)
DOC finances are already strained after two rounds of budget cuts shaved off $9.4 million of the department's $414.5 million biennial allotment. And although jail holds have been well above the stated 250 goal so far this year, la ...
Added: one year ago