Proposed fee would make Eastern Montana landowners share firefighting cost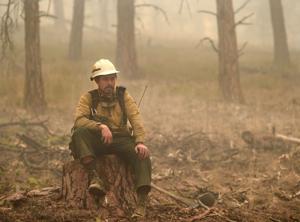 A wildland firefighter takes a break amid thick smoke near the site of a back burn operation on the south end of the Lolo Peak fire on Aug. 28. 
Eastern Montana landowners would bear their share of the state's firefighting preparation costs under a new tax that would also help offset some of the 2017 budget shortfall.
House Bill 4 would raise about $16.6 million in new property taxes from landowners whose property was protected by state firefighters. Many parts of western Montana already pay these firefighting preparedness fees, contributing about $3.6 million to the Department of Natural Resources and Conservation.
But an unexpectedly severe fire season put another $13 million dent in the state general fund. DNRC Director John Tubbs said the new assessment would transfer those costs to property owners who receive the protection but aren't paying for it.
"It is a sea change in how we do fire assessments in the state," Tubbs told the House Appropriations Committee on Monday. "The 2017 fire season reflects the statewide nature of the problem. We had fires in all 56 counties of Montana."
But only 35 counties have elected locally to have fire districts that can raise money to train and staff DNRC firefighters outside areas protected by municipal fire departments. HB 4 would make that assessment statewide, charging any private property owner n ...
Added: 9 months ago