More snow, colder weather on tap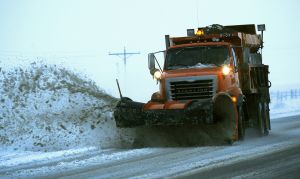 The first measurable snowfall of the season dropped 2 to 3 inches in Billings Wednesday, with up to another 4 inches of snow expected to begin falling tonight through Saturday, according to the National Weather Service.
High temperatures today will hover just above the freezing mark, with possible scattered snow showers until noon.
A warm front from the south is expected to produce light snow and hold high temperatures above freezing on Friday and Saturday, said NWS Billings meteorologist Julie Arthur. The best chance of snow will be during the day Saturday.
"Then it's going to get very, very cold Saturday night," she said. "It looks like lows right in the mid-teens" through Monday night.
The upcoming storm is expected to dump 12 to 18 inches of snow in Cooke City and the Beartooth Mountains, up to 8 inches in Red Lodge and Livingston and 3 to 4 inches in Roundup.
Farther east, snowfall totals are forecast to be lower, with 1 to 2 inches expected in Miles City and Forsyth and less than an inch in the southeast corner of Montana.
Snowfall totals from Wednesday's storm varied throughout the region, according to NWS:
Billings: 2-3 inches
Red Lodge: 6-8 inches
Judith Gap: 1 inch
Yellowstone's Northeast Entrance: 5 inches
Added: one year ago