Flood risk topic of Miles City meeting on Oct. 17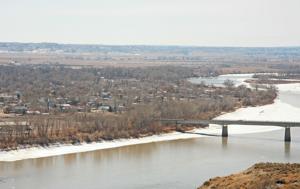 The Yellowstone River runs along the edge of Miles City in 2010. 
A meeting to gather public input on the recently initiated feasibility study to address flood risk along the Yellowstone and Tongue rivers within Miles City will be held from 5:30 to 8 p.m. on Tuesday, Oct. 17, at the Miles Community College (Rooms 106 & 107), 2715 Dickinson St. in Miles City. 
During the meeting there will be a brief presentation on the formation of a Special Improvement District to assist with funding construction, operation and maintenance of a flood risk project followed by a U.S. Army Corps of Engineers presentation on details of the feasibility study. There will also be an open house in which the cooperating agencies will be available to answer questions and gather input on flooding problems, environmental considerations and available flood risk measures that may be considered during the study.
Input may be submitted at the public meeting, emailed to cenwo-planning@usace.army.mil or mailed to: U.S. Army Corps of Engineers, Omaha District; CENWO-PM-AC; ATTN: Amee Rief; 1616 Capitol Avenue; Omaha, NE 68102-4901. Anyone with questions about the public meeting may contact the City at 406-234-3493.
To learn more about the project, visit [Read More ...]
Added: one year ago