Pennsylvanians bring hay to Montana after devastating drought and fire season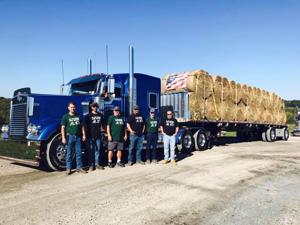 More than 30 truckloads of hay have traveled 1,600 miles from Eau Clair, Pennsylvania, to Montana this month. The trucking company's owner, Perry Altmire Jr., is a resident in the tiny Western Pennsylvania town who spearheaded the hay drive after talking about Montana's plight with his son who's stationed at Malmstrom Air Force Base.
Cows graze in front of hills burning in the Bridge Coulee fire in the Lodgepole Complex near Sand Springs on July 23. After a summer filled with devastating fires and drought in Eastern Montana, Andy Fjeseth, a spokesman for the Montana Department of Agriculture, said the area has been receiving "an outpouring of support" from many states, including truckloads of hay coming from Pennsylvania.
Five truckloads of hay were being unloaded in Miles City on Monday after a nearly 1,600-mile journey last weekend from Eau Clair, Pennsylvania.
The cross-country haul is the latest addition to more than 30 truckloads that have been donated this month to ranchers in Eastern Montana still reeling from the combined devastation of a historically severe drought and a summer filled with relentless wildfires.
"These ranches have been in these families for years, and it's their livelihood," said Perry Altmire Jr., a resident of the tiny Western Pennsylvania town who has spearheaded the "PA for Montana" effort to coordinate and deliver hay donations to the region.
"It just seemed to be something t ...
Added: one year ago