Tester wants firings after postal workers accused of delaying mail delivery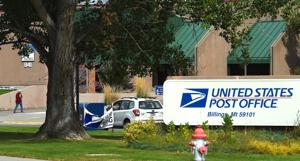 The main United States Post Office at South 26th and 9th Avenue South.
An investigation showing that U.S. Postal workers deliberately slowed delivery of millions of mail items has U.S. Sen. Jon Tester calling for those responsible to be fired.
Tester wrote the U.S. Postmaster General on Monday after the Office of Inspector General revealed that more than 2 billion mailed items were delayed nationwide over a year's time. Investigators also discovered postal workers manipulating mail delivery time records and inaccurately reporting delayed mail.
Several postal employees, including some in Montana, reported mail being intentionally delayed so workers on another shift would have something to do.
Mail reporting delays cost the USPS $85.1 million in revenue. First class mail volume fell more than 4 percent in the first quarter of 2017.
"To be clear," Tester wrote, "any employee who deliberately delayed mail delivery, or who knowingly misreported mail delivery should be terminated for violating the trust of America's hardworking taxpayers and postal ratepayers."
Tester, a Democrat, and Montana's Republican U.S. Sen Steve Daines, are both members of the Homeland Security and Government Affairs Committee, which handles U.S. Postal Service matters.
In a two-day audit of eight mail distribution centers, investigators discovered more than 572 ...
Added: one year ago