Ida Mae Flor Waller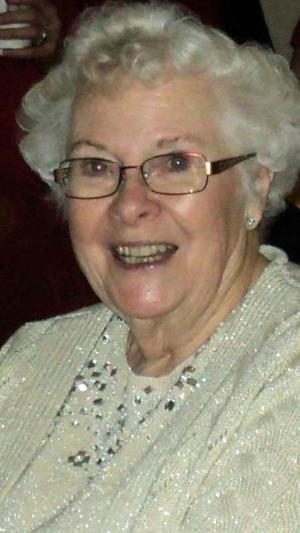 Ida Mae Flor Waller
Ida Mae was born on what was probably a brutally cold winter day in January of 1932 on her parents homestead place on the windswept prairie just out of Marmarth North Dakota. Elmer Flor and Marie Havener Flor joyously welcomed another baby girl, a gorgeous little strawberry blonde with eyes a brilliant blue, and she joined big sisters Beulah and Millie Jean and then later became a big sister herself to little Helen.
Ida Mae was shaped by those years growing up as a rough and tumble North Dakota girl. There were so many things that defined our Mom and Grandma. She was tender and she was tough. She was smart and high spirited and sometimes sassy. She was practical and down to earth. She was an optimist. She was generous and warm hearted. She was a resolutely strong and stubborn and sturdy Lutheran Norwegian. She had an unwavering belief in Jesus Christ with a faith that sustained her and bolstered her all of her life.
Mom was always energetic and capable and she had more than a few treasured memories of the jobs she enjoyed through the years. She was just a kid really, but because she caught onto things quickly, she was hired as a telegrapher by the bustling Milwaukee Railroad in Marmarth for a bit. She often told stories about a summer spent in Miles City at Holy Rosary Hospital working as a nurse's aide. She was always proud of her work in civilian service at Travis Air Force Base in Fairfield California while her husband Bill was stationed there serving our country. For many years Ida Mae held the title of Harding County Deputy Auditor and worked in the courthouse in Buffalo South Dakota. After moving to Billings, she worked for a number of years at the Ronald McDonald House. Lastly, she was very proud to have served for almost twenty five years as a volunteer at her beloved Billings Clinic.
But Ida Mae's greatest achievement, and her life's deepest blessing, was the sweet and enduring love she held for her husband and their sons. Bill Waller was a handsome Marmarth High School upperclassman who caught her eye and stole her heart in the summer of 1948. They were wed in a simple ceremony in June of 1950 and the years that followed were rich in love and devotion to one another and to their three boys. Surely there were the tough times, but all we really ever heard about through the years were the tender and treasured stories of affection and adventure and deep commitment and caring. Together they built a solid and faithful foundation for their family. She was a dedicated wife and mother alongside her husband during their years in South Dakota where Bill worked in the oilfields for Shell Oil. Bill died unexpectedly in January of 1988 and truly left an aching void in our hearts. With great resolve, Ida Mae forged on without him. We were really proud of her for her grit and gumption. She lived all these years alone but with a commendable strength and resolve and a good measure of happiness and independence. It is a joy to think that now, after almost thirty years apart, Dad and Mom are reunited once again and in a place of unimaginable joy.
In so many big and little ways, in her almost 86 years of life, Mom set an example for which we will always be grateful. She was a remarkable woman. She lived life on her terms. It has been a tough thing to say goodbye. We sure loved her a lot and she will be greatly missed. We will honor her memory and her legacy forever.
Ida Mae was preceded in death by her parents Elmer and Marie Flor, her husband William Henry Waller and her sisters Beulah and Millie Jean and baby Helen. She leaves behind her three precious sons and their families: Son Steve (Julie) Waller of Billings and their children Matt (Stephanie) Waller of Chester MT and Jeff (Vanessa) Waller of Billings and Jennifer (Mike) Vondra of Billings and Lucas Waller of Bozeman. Son Paul (Renae) Waller of Billings and their daughters Kelsey Waller of Billings and Samantha (Dustin) Menuey of Billings. Son David (Lora) Waller of Billings and their children Joshua Waller of Missoula and Cassandra Waller of Billings. Grandma Ida (Mae Mae) will also be greatly missed by her beautiful great grandchildren Paxton, Dakota, John Michael, Jack, Will and Steven John. Great-grandbaby Beau will join us in October.
A memorial service celebrating her life is planned for Saturday, Sept. 16, at 11 a.m., at Smith West Funeral Chapel 304 34th St. West, Billings, with a reception to follow. Also we will be gathering at the Ladner Lutheran Church in Ladner, South Dakota on Saturday, Sept. 23, at 11 a.m., and Mom will then be put to rest beside Dad at the Cave Hills Cemetery. In lieu of flowers, any memorials may be made to the charity of your choice. Condolences may be shared online at smithfuneralchapels.com.
Added: 9 months ago