Montana expands hay lottery as drought, fire situation worsen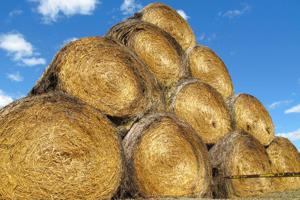 Stacks of hay donated to help farmers and ranchers affected by drought point skyward at a collection site on the campus of North Dakota State University in Fargo, N.D. 
HELENA — As wildfires continue to burn grasslands and forests across Montana and drought continues to worsen, the Montana Department of Agriculture has expanded its hay lottery.
Drought conditions gradually have worsened across Montana throughout the summer, and the Sept. 7 release of the U.S. Drought Monitor for the first time had the entire state in some category of drought condition, from abnormally dry to the most severe category, exceptional drought. More than a quarter of the state now is considered in exceptional drought.
Andy Fjeseth, communications officer for the Montana Department of Agriculture, said since the fires are still burning in many areas, no dollar figure can be attached to disaster evaluations. But anecdotally, the fires have been "devastating" to many in agriculture, he said.
The Lodgepole Complex fire, which burned earlier this summer in eastern Montana, was the largest and most damaging fire to ranchers thus far, burning more than 270,000 acres of what was largely pasture and grass.
Many of the fires still burning are in forests of western Montana, but Kori Anderson, spokesperson for the Montana Stockgrowers Association, said there have been cattle moved off of pastures in the west, and she has heard of approximately 50 animals killed in a fire in ...
Added: one year ago